Middle East Resources
PRIMER-Connecticut's concise list of resources for people interested in peace in the Middle East.
Mitchell Bard
has put one of the most valuable guides to the Arab Israeli conflict online.
The guide has chapters covering everything from Israel's roots to each of the wars to the current uprising. Because it is online we can now respond rapidly to new myths with accurate facts. All of the information is hyperlinked to the Jewish Virtual Library, the world's most comprehensive online encyclopedia of Jewish history and culture.
This is a work in progress and Dr. Bard welcomes comments and suggestions.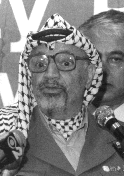 In October, 1995, I had the dubious pleasure of hearing Yassir Arafat speak at a meeting with Jewish leaders. It's interesting to look back and compare my observations then with today's reality. Click to read my observations.
Israel Resources


Information about the many victims of Arab terrorism in the mini-war Yassir Arafat initiated after rejecting the hand Israel stretched out to him in peace.
Jerusalem Area
Netanya
Tel Aviv
General
These are sites which are not merely generated by people or organizations not actively supportive of the only democracy in the Middle East, but dedicated to the destruction of America's only true friend and ally in that region. Many call themselves pro-Palestinian, but if they were really interested in the welfare of the Palestinian Arabs they would be urging the Palestinian Arab leadership to give up its goal of destroying Israel and make peace.